Pet Boarding in Firestone

Boarding Services: Dogs
At Coal Ridge Animal Hospital, our Firestone pet boarding facility was designed from the ground up with your pet's comfort in mind. With Air conditioned rooms for hotter months and heated floors for winter, spacious play areas and a 40×20 splash pool/pond, your best friend will enjoy all the comfort and care you expect during their stay with us.
We offer the following features for dogs:
32 indoor/outdoor runs (4 foot x 16 foot)
42 indoor runs with windows (4 foot x 6 foot)
15 variable sized runs
Raised platform beds
Food/water bowls secured off the floor
Heated floors for colder days
One-half acre exercise/play yard
24 separate exercise pens
Heated Floors
Air Conditioned Rooms
The Benefits of Pet Boarding for Your Dog
Our exercise yard is enclosed with an 8-foot high concrete wall to ensure that we do not have any jumpers leaving the yard. Dogs in the indoor/outdoor runs are taken out 2 times daily and dogs in the indoor runs are taken out 3 times daily. You are welcome to bring bedding from home, as long as it can be washed and dried in a standard washing machine/dryer. Please indicate your last name on each piece of bedding. In addition, your pet's favorite toys may accompany them.
We provide Hill's Sensitive Skin and Stomach and Purina EN (diet's that are easily digestible) and Old Mother Hubbard dog biscuits for our guests. You are welcome to bring your pet's own food and treats at no additional charge. Due to health concerns, we will not accept raw diets. We offer a complimentary kennel bath to guest staying 2 or more nights. (Professional grooming is available at an additional fee.)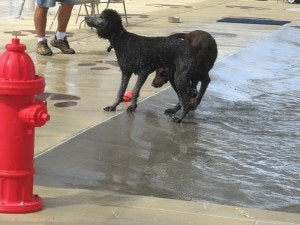 Amenities that are available at an additional fee:
Medication dispensing
Extra walks (3 per day)
Social play time, 7 days/week, except holidays
Private play time
Canine Boarding Rates (per night/per dog):
Up to 40 lbs: $40
41-80 lbs: $41
Over 80 lbs: $42
Feline Boarding per night: $22
Daily oral/topical medication: $5
Daily injectable medication: $7
Doggie social time 1st dog: $15
Private Pond time 1st dog: $15
Additional dog: $9
Extra Walks: $9
*A 10% discount is given for additional pets sharing the same run. Discount is applied to the smaller pet.
Private Splash Pool Time Agreement
---
Boarding Services: Cats
Our feline guests each have their own room with a view away from our noisier canine friends. We have a separate kitty playroom complete with climbing ledges, hiding boxes, and a great view.
Feline Boarding Rates (per night/per cat): $20.00
A 10% discount is given for additional pets sharing the same condo.
---
Boarding Service Hours & Requirements
| | | |
| --- | --- | --- |
| | Monday-Friday | 8:00am-5:00pm |
| | Saturday | 8:00am-12:00pm |
| | | 4:00pm-6:00pm (pick up only) |
| | Sunday | 4:00pm-6:00pm (pick up only) |
We require a $50 deposit for all major holidays (New Year's Day, Spring Break, Memorial Day, 4th of July, Labor Day, Thanksgiving, and Christmas). This is a non-refundable deposit if cancelled less than a week before the reservation and will be used towards your boarding stay.
Vaccinations
All boarders need to be current on the following vaccines (provided through our hospital if needed):
Dogs: DHPP* (canine distemper combination), rabies* and bordetella(within 6 months)
Cats: FVRCP* (feline distemper combination) and rabies*
*requires a Wellness Exam
---
Additional Amenities
Check out our pool!
Our 40' x 20' splash pool/pond is designed and built specifically with your pet in mind. Little waders especially enjoy the gradual sloping pool's 'putter edge,' while more adventurous swimmers will spend most of their time further out in the 22" deep water. Gently sloping sides and easily accessible walkouts encourage even the shyest of bathers to explore their wet'n wild side!
Our pool is available for:
Boarding dogs during social time
Boarding dogs private play time
Individual rental
Group rental
Group Social Time/Daycare/Private Play Time
Our canine companions depend on us for mental and physical stimulation. Boredom and inactivity can cause your pet to be overweight and may even lead to destructive behaviors. Our playground and splash pond provides a stimulation atmosphere for your pet's activity needs. Our staff supervises their play times and encourages the development of your pet's physical agility, mental development, and social skills. Playtime is also a great way to alleviate stress.
Participants of our playtime are known to:
Sleep better
Have less anxiety
Have increased appetite
Rest more quietly during the day
For the safety of all, no intact animals over 6 months of age are allowed in the group playtime. Please contact us today at (303) 833-1137 for more information about our pet boarding services.