Firestone Pet Grooming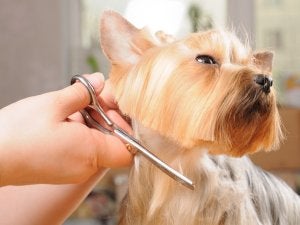 At Coal Ridge Animal Hospital, we offer a full service pet grooming program for all breeds of dogs and cats. Our groomers are skilled in all trimming styles, including kennel and pattern clips.
All dogs will receive:
A thorough bath using our Hydrosurge® bathing system
Ear cleaning
Nail trim
Anal sac expression (if necessary)
Brush out or style trim of your choice
Prices are based on the trimming style desired, size, length, and condition of the coat and any behavioral issues.
Shed Less Program
The Shed Less program is a carefully designed and tested treatment program for pets that shed. Within one to two treatments, your pet's coat will be relieved of 60% to 80% of dead and shedding hair. Ask our groomers if this treatment is right for your pet.
What is a Hydrosurge® bathing system?
This is the system that revolutionized pet bathing. It gently forces water and shampoo through the finest of animal coats to the more thick, heavily coated pets, getting down to the skin to lift and remove dead skin and debris. Dogs love the massaging action and their owners love the deep clean that leaves their best friend feeling and smelling clean.
Meet Our Groomers
Melissa
Groomer
Melissa has been grooming since 2004. Shortly after graduating from high school she moved to Florida and attended the Florida Institute of Animal Arts. After an intensive 700-hour program she returned home to Colorado where she found her first grooming job. She currently working on becoming a Nationally Certified Master Groomer having completed the sporting and non-sporting 'legs'.
JacLynn
Practice Manager
JacLynn Vealey became interested in pet grooming in 2000 and received her grooming certification from the Critter Clips School of Dog Grooming at Colorado Springs in 2001. She joined our staff in November of 2001 and although her duties are now limited in grooming, she continues her education and remains active in the grooming community.
To request more information about our grooming services, please call us at (303) 833-1137.
Our Values Statements
Quality Pet Care
Community-Friendly Hospital
Friendly & Informative Staff
We Treat All Animals Like Our Own
Comfortable and Spacious Boarding Facilities