Trusted Pet Acupuncture in Longmont, CO
For over a decade, Coal Ridge Animal Hospital has provided our community's pets with services for pet acupuncture in Longmont, CO. Our licensed, certified, compassionate specialists possess the capabilities necessary to restore your pet's health so they can thrive. We strive to cultivate and embrace strong connections with our clients, their pets, and our entire staff, nurturing an accommodating environment for peace of mind. We'll provide you and your pet with friendly, professional client service, guiding you every step of the way to help you make the best medical choices for your pet. For comforting treatment, we're the most trusted team for your needs.
We Perform Safe and Effective Treatments
We perform pet acupuncture for a range animal, with the intention of ensuring your pet's health, happiness, and safety. Through cutting-edge technology, we apply a dry needling therapy that can be used with traditional medical therapies. During the treatment, we'll use tiny, minimally invasive needles to stimulate the nerves needed for pain relief and health. The treatment will help your pet with the following:
Stimulate bodily pain relieve and anti-inflammatory agents.
Relax your pet's muscles and areas of soreness.
Support tissue blood flow, oxygenation, and toxin removal.
Avoid potential harmful side effects caused by prescription medicine.
Treat a wide array of medical conditions and issues.
How Often Should My Pet Receive Treatment?
The frequency of treatments depends on your pet and their specific needs. Depending on how quickly your pet's condition responds to treatment, your pet may require procedure frequently or sparingly. How long the condition has been present in your pet also plays a role in treatment frequency.
It's important to note that not all conditions will respond to treatment. The only sure way to find out if acupuncture is right for your pet is to diagnose their condition sooner than later.
We Treat Your Pets Like Family
Our local pets bring happiness, love, and connection to our community every day. That's why we're devoted to providing community focused treatments to improve your pet's health and maintain their well-being. Through advanced treatments, we'll cure, treat, and alleviate your pet's medical conditions. We're here to provide optimal comfort for your pet.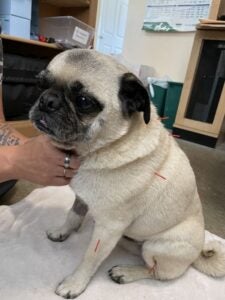 Our Values Statements
Quality Pet Care
Community-Friendly Hospital
Friendly & Informative Staff
We Treat All Animals Like Our Own
Comfortable and Spacious Boarding Facilities